Back on Twitter @Camp-Neotez
We are back on Twitter with all the latest Camp updates! Go follow @Camp-Neotez on Twitter.
Applications are open! Go to app.campdoc.com/register/neotez to sign up for your week.
The 2022 "Back to Camp" volleyball tournament will be held on Sunday, May 1 at the Maryland Heights Church of Christ. Concessions begin at noon, tournament play at 1:00 pm. All funds raised from fees and concessions go to Neotez. After a two-year hiatus from...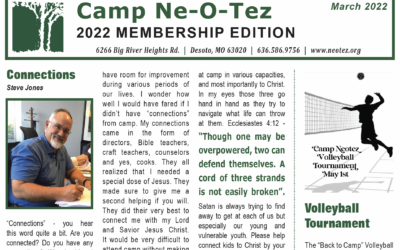 When you become a member of Camp Neotez, you get the satisfaction of supporting the day-to-day operation of Camp PLUS you get other perks. Depending on the membership level you have chosen, your perks may include: transferable vouchers toward camping sessions in...